I've been recruited to do the chauffeuring so Mom and Dad can be in Lead, South Dakota for an unofficial class of 1950 reunion with a few friends. Her old friends, Jodi, Char, and Lottie are here. Jodi's daughter, and grandson, and Lottie's niece and family are also along. We're staying at a little canyon lodge along the river west of Lead.
On the way here yesterday, we stopped in Lewellen, NE for coffee at The Most Unlikely Place. Cynthia fixed special raspberry lemonade for Dad. Then, Alliance was along the way, and we stopped at the Carnegie Arts Center where we saw amazing art by my friends, Tina Simeon and Judy McElroy. The Association of Nebraska Art Clubs traveling show was already packed up at the Alliance Library ready to be on its way to Valentine, so I didn't get to show off my prize winner, but it was great to see that nice facility in Alliance and get back on the road.
We got out for some exercise at the Evan's Plunge spring fed pool in Hot Springs, South Dakota. Water aerobics may be the key to healing mom's ankle, which is still sore after surgery to repair a torn tendon.
The main highway goes right through Custer State Park, where the buffalo are usually seen roaming free, and often stopping traffic. Late on this July afternoon, there were no bison visible from the road, but the gigantic mountain sculpture of Crazy Horse, is very close to the road. It was started in 1948, and far from complete as it is being privately funded. A cnn.com article says
Chief Henry Standing Bear,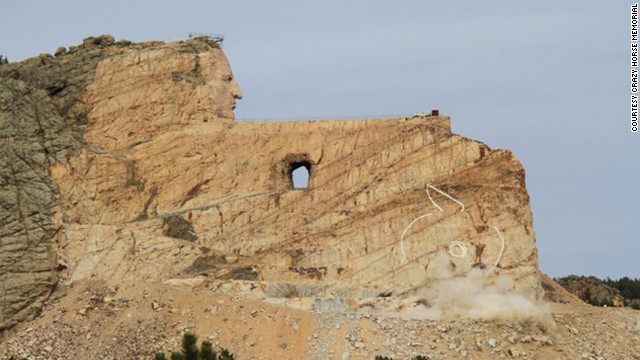 then-leader of the Lakota tribe, didn't like the four huge American faces peering over his people's land, so he asked Polish sculptor Korczak Ziolkowski if he could carve a monument in honor of a Native American legend. Of course there is controversy, and those who think Standing Bear had no right to do this. As I'm looking up information for this blog, I realized that we just missed a Fourth of July event at the monument. They were to have horseback riders from the Pine Ridge Reservation honoring military veterans, and a special sculptural blast at 11am!
After greeting all the old friends at our cabin in the canyon, we headed to Lewie's Saloon and Eatery, just down the canyon road. This place was listed in the top 25 of best burger places by Midwest Living Magazine last year. But even better than that: Lewie is the son of another 1950 classmate! It's a fun place with lots of antiques, TVs, fish tanks, beer, and big greasy burgers!